Choosing the Right Luggage Option
If you are planning your next holiday and you want to get some new luggage, then you are probably considering all of the options that are available to you. It can actually be quite difficult to choose the right type of luggage, purely because there are so many different options to look into.
You will have to think about whether you want hardside or softside, the capacity of the luggage, whether it is enough to accommodate your needs among many other things. There are a few different points to consider when choosing a luggage option.
Points to Keep in Mind, When Choosing a Luggage Option
Here are a couple of the things that you could consider, when it comes to choosing the right luggage option for you.
Capacity – This is one of the most important things to think about, when choosing which luggage option is right for you. You need to think about how long you are going to be away for, to start with. This will help you get a rough idea of how much you are going to need to pack. Once you have done this, you will need to think about how much you intend to bring back from your holiday. If you plan on maxing out at duty free, for example, then you are going to need to allow for extra space. By thinking about these points ahead of time, you can make sure that you get a suitcase that is big enough for your needs.
Hardside vs Softside – Again, this is something that you will need to think about carefully as each option has its pros and cons. Hardside luggage is the best option if you plan on carrying electronics or fragile items, as it offers more protection from knocks as well as the elements. If you want luggage that is expandable, then you would be better off with softside luggage, but do keep in mind that it doesn't offer as much protection.
Read Reviews – Before you can choose the right suitcase, you will want to read customer reviews. The last thing that you want is to buy a suitcase only to realise that it is not worth the money as there are too many problems with it. Traveling to your destination will be stressful enough as it is, without worrying about your suitcase not being secure.
Type of Lock – It is always a good idea to think about the type of lock on your suitcase. There are numerous different types, from a simple padlock, to a combination locking system. Many people prefer to use a combination of different types of locks for extra security. If you have already bought a suitcase and found that you are not satisfied with the security that it offers, then you could even look into buying a different lock separately to make sure that it is extra secure.
Compartments – A final thing that is definitely worth looking at, when it comes to buying luggage, is the amount of different compartments that the suitcase has. This is especially important if you want to keep smart clothes separate, or you plan on carrying liquids in your checked luggage and don't want to risk them leaking and making a mess. Most suitcases will have different compartments, but it is always a good idea to check images and descriptions thoroughly to get a clear picture.
What to Put on a Luggage Tag
One thing that you should definitely do, if you want to minimise the risk of losing your luggage, is to make sure that you fill out a luggage tag. In order to make sure that you have filled it out correctly, there are a few pieces of important information that you should add to the tag.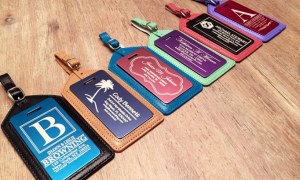 First of all, make sure you have your full name and a contact number written clearly on the tag. You should also add your home address and if you want to make yourself easier to get a hold of if your luggage does get lost, is your email address. The more contact methods you have, the better.
It is always a good idea to make sure that you use something like a permanent marker to write your personal information. This will ensure that it is clearly visible to those who may find your luggage should it get lost. When you fill out your information in marker, do make sure that you give the ink a chance to dry before you put it in the clear tag holder. If you don't leave it to dry then it will probably smudge and then you will have to start again.
By adding the information to your luggage tag, you can make sure that you have given yourself the best chance of getting it back if it does happen to get lost.