Are you ready to embark on an adventure in Granbury, TX? Get ready to experience a world of freedom and excitement as you explore the countless things to do in this charming town.
From historic sites and museums that bring the past to life, to exhilarating outdoor activities on the beautiful Lake Granbury, there is something for everyone here.
Indulge your taste buds with the culinary delights at local restaurants, and satisfy your shopping desires with a stroll through the quaint downtown area, filled with unique shops and antique treasures.
If you're in the mood for some entertainment, the Granbury Opera House offers live performances that will leave you in awe.
Take a scenic drive through the breathtaking Brazos River Valley and soak in the natural beauty that surrounds you.
And when it's time to unwind, relax in one of the cozy bed and breakfasts that Granbury has to offer.
Get ready to experience the freedom and adventure that awaits you in Granbury, TX.
Too Long; Didn't Read
Granbury, TX is a charming town with a rich history and vibrant cultural experiences.
The town offers a variety of attractions including the Hood County Courthouse, Granbury Square, Shanley House Gallery, and Lake Granbury.
Visitors can enjoy outdoor activities such as fishing, boating, hiking, and biking, as well as explore local restaurants offering farm-to-table dining experiences.
Downtown Granbury is known for its boutique shopping, antique shops, and the Granbury Opera House, which features live performances in an ornate decor setting.
Exploring Historic Sites and Museums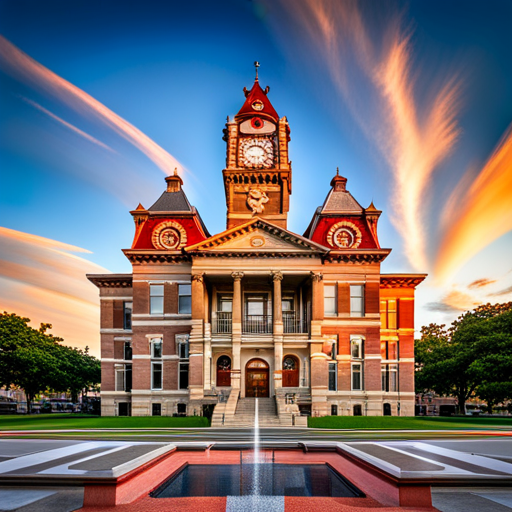 If you're a history buff like me, you'll love exploring all the fascinating historic sites and museums in Granbury, TX! From stunning historic homes to captivating art galleries, there's something for everyone to enjoy.
Start your journey by visiting the beautiful Granbury Square, where you can step back in time and admire the well-preserved buildings that date back to the 19th century. Take a leisurely stroll along the streets and immerse yourself in the rich history that surrounds you.
For art enthusiasts, the Shanley House Gallery is a must-visit. This art gallery showcases a diverse collection of works from local and regional artists, providing a unique glimpse into the artistic heritage of Granbury.
Whether you're interested in history or art, Granbury has it all!
Enjoying Outdoor Activities on Lake Granbury
Immerse yourself in the beauty of Lake Granbury while engaging in a variety of thrilling outdoor activities. Whether you're a fishing enthusiast or a boating lover, the lake offers endless opportunities for you to enjoy.
Grab your fishing gear and head out to the sparkling waters, where you can cast a line and reel in some impressive catches. If you prefer to feel the wind in your hair and the sun on your face, hop on a boat and cruise along the lake, taking in the breathtaking scenery.
For those who prefer to stay on land, there are plenty of hiking and biking trails that surround the lake, allowing you to explore the picturesque surroundings.
So, get ready to embrace the freedom and excitement that Lake Granbury has to offer.
Indulging in Culinary Delights at Local Restaurants
Get ready to tantalize your taste buds with the mouthwatering culinary delights offered at local restaurants around Lake Granbury. Indulge in the ultimate farm-to-table dining experience, where you can savor fresh, locally sourced ingredients prepared by talented chefs who are passionate about their craft.
Whether you're a fan of comfort food or crave something more exotic, these restaurants have something for everyone. Take your time to savor each bite, as you enjoy the freedom to indulge in the flavors that make your taste buds sing.
And if you're a wine enthusiast, you're in luck! Many of these restaurants offer wine tastings, allowing you to pair the perfect glass with your meal.
So, come hungry and prepare to be amazed by the culinary delights that await you in Granbury.
Shopping and Antiquing in Downtown Granbury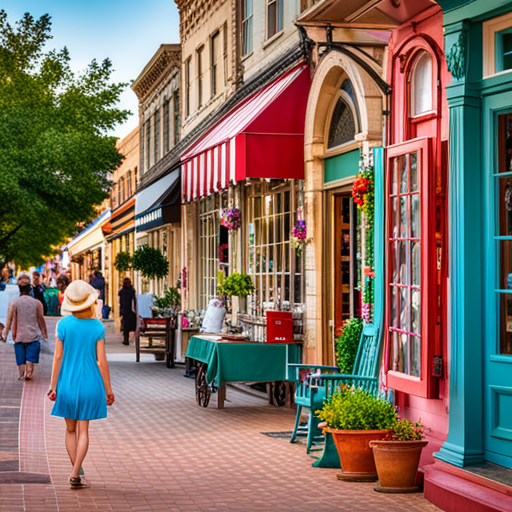 Explore the charming streets of Downtown Granbury, where you can wander through quaint shops and discover hidden treasures at the many antique stores. It's a shopaholic's dream come true!
Here are a few reasons why you'll love boutique shopping and exploring the antique shops in this vibrant town:
Unique Finds: From vintage clothing to one-of-a-kind furniture pieces, the antique shops in Downtown Granbury offer a wide array of unique items that'll make your heart skip a beat.
Timeless Appeal: Antique shops allow you to step back in time and appreciate the craftsmanship of bygone eras. Find that special piece that adds character and charm to your home.
Support Local: By shopping at the local boutiques and antique shops, you're supporting small businesses and the local economy. Plus, you'll have the satisfaction of knowing that you're finding something truly special.
So, grab your wallet and get ready to indulge in some retail therapy. Downtown Granbury awaits with its delightful antique shops and charming boutiques. Happy shopping!
Attending Live Performances at the Granbury Opera House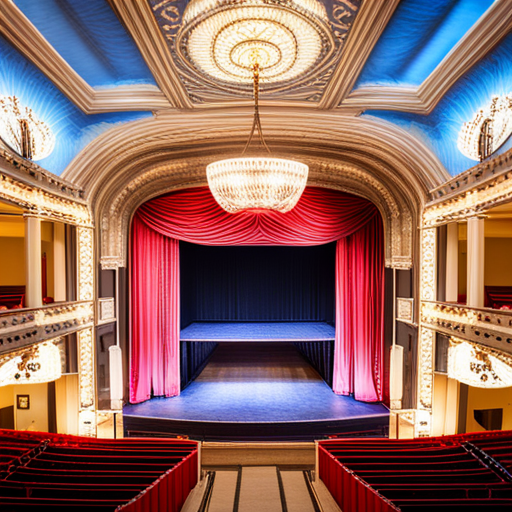 Indulge in the cultural experience of attending live performances at the historic Granbury Opera House. Immerse yourself in the enchanting atmosphere as you enjoy the captivating melodies of live music and the mesmerizing artistry of theater performances.
Let the music transport you to another world, where your worries and cares fade away. Feel the energy of the performers as they bring stories to life on stage, evoking a range of emotions within you.
Whether you're a fan of classical music, Broadway shows, or contemporary theater, the Granbury Opera House offers a diverse lineup of performances to suit your tastes. So grab a seat, sit back, and let yourself be swept away by the magic of live entertainment.
It's time to embrace your freedom and indulge in the rich cultural experiences that await you at the Granbury Opera House.
Taking a Scenic Drive through the Brazos River Valley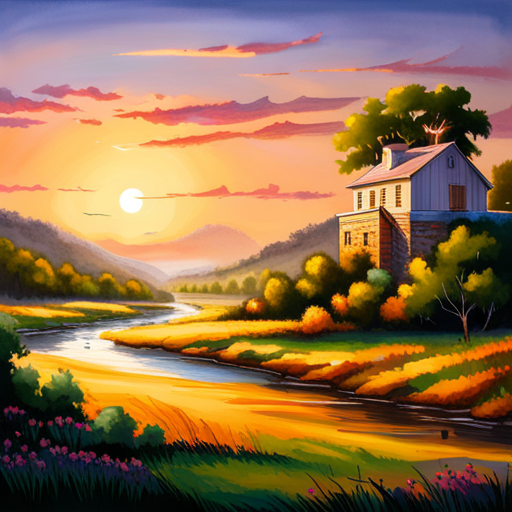 Immerse yourself in the breathtaking beauty of the Brazos River Valley as you traverse its scenic roads, allowing the captivating landscapes to stir your soul.
The Brazos River scenery is a true gem, with its rolling hills, lush greenery, and crystal-clear waters. As you drive through the valley, you'll be treated to stunning views of the river winding its way through the picturesque countryside. The vibrant colors of wildflowers in bloom add a touch of magic to the already enchanting scenery.
Take a moment to stop at one of the scenic overlooks and breathe in the fresh air while taking in the panoramic views. The Brazos River Valley offers a sense of freedom and tranquility, allowing you to escape the hustle and bustle of everyday life. So hop in your car and embark on a scenic drive that will leave you feeling rejuvenated and inspired.
![Brazos River](https://example.com/image1.jpg)
![Scenic Drive](https://example.com/image2.jpg)
![Rolling Hills](https://example.com/image3.jpg)
![Wildflowers](https://example.com/image4.jpg)
![Crystal-clear Waters](https://example.com/image5.jpg)
Relaxing and Unwinding at Bed and Breakfasts in Granbury
Unwind and embrace serenity as you find solace at the charming bed and breakfasts nestled in the heart of Granbury. These cozy accommodations provide the perfect escape from the hustle and bustle of everyday life.
As you step inside, you'll be greeted by a warm and inviting atmosphere, where relaxation is the top priority. Sink into plush, comfortable beds and let the worries of the world melt away.
Wake up to a delicious homemade breakfast, prepared with love and care. Take your time savoring each bite as you sip on a freshly brewed cup of coffee.
Spend your days exploring the quaint streets of Granbury or simply lounging in the peaceful gardens. Whatever you choose to do, these bed and breakfasts offer the freedom to unwind and rejuvenate your soul.
Frequently Asked Questions
How much does it cost to visit the Granbury Opera House?
Visiting the Granbury Opera House in Granbury, TX will cost you around $25 per ticket. Enjoy the rich history, incredible performances, and the freedom to immerse yourself in the arts.
Can I bring my own boat to Lake Granbury?
Yes, you can bring your own boat to Lake Granbury. However, if you prefer not to bring your own, there are also boat rentals available for you to enjoy the freedom of exploring the lake.
Are there any bed and breakfasts in Granbury that allow pets?
Yes, there are several pet-friendly bed and breakfasts in Granbury that welcome your furry friends. You'll find comfortable accommodations that cater to both you and your pet's needs. Plus, there are plenty of fun pet-friendly activities to enjoy together.
What are some popular local restaurants in downtown Granbury?
You'll love the dining options in downtown Granbury! From cozy cafes to upscale restaurants, there's something for everyone. Indulge in delicious cuisine, sip on craft cocktails, and savor the vibrant atmosphere.
Is there a fee to enter the historic sites and museums in Granbury?
There is no cost of admission at the museums in Granbury, so you can explore the historic sites and museums for free. Additionally, there are no parking fees at the Granbury historic sites, giving you the freedom to explore hassle-free.
Conclusion
So, if you're looking for a charming and history-rich destination, Granbury, TX is the place to be.
With its historic sites, outdoor activities, delicious dining options, and unique shopping experiences, there's something for everyone.
Whether you're a history buff, a nature enthusiast, a foodie, or simply seeking relaxation, Granbury has it all.
So pack your bags, head to this picturesque town, and create unforgettable memories in the heart of Texas. You won't be disappointed!